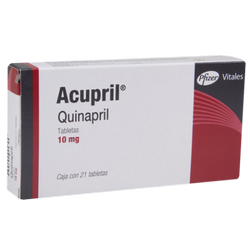 Find Analog
Active Ingredient: Quinapril
Dosage: 20 mg
Route of Administration: Oral
Dosage Form: Tablets
Quantity per package: 21
Availability: Out of stock
Acupril (quinapril) is an ACE inhibitor used to treat high blood pressure. The reduction of high blood pressure helps to prevent strokes, heart attacks, and kidney disorders. This drug is also applied to the treatment of heart failure. It relaxes blood vessels so blood can flow more easily.
Acupril is no longer available for purchase but you can find another effective drug used to treat hypertension on this page.
Indications
This medicine is indicated for the treatment of hypertension. It is effective as a single treatment or in combination with thiazide diuretics and beta-blockers in patients with high blood pressure. It is also effective for the treatment of congestive heart failure when administered concomitantly with diuretic and / or cardiac glycoside.
Dosage and administration
Hypertension: Monotherapy: The recommended initial dosage of Acupril in patients who do not use diuretics is 10 or 20 mg once daily. Depending on the clinical response, the dosage can be adjusted (doubling the dose) to the maintenance dose of 20 or 40 mg/day usually administered as a single dose or can be divided into two doses. Generally, adjustments should be made at 4-week intervals. In most patients, long-term control is maintained with a daily dosing regimen. In patients who should continue treatment with a diuretic, the recommended initial dose of Acupril is 5 mg, which should subsequently be adjusted to the optimal response (as described above).
Congestive heart failure: The drug is indicated as adjuvant therapy with diuretics and / or cardiac glycosides. The recommended initial dose in patients with congestive heart failure is 5 mg 1 or 2 times a day, then the patient should be monitored closely for signs of hypotension. If the initial dose of the drug is well-tolerated, the dose can be adjusted until the effective dose is found, usually 10 to 40 mg per day administered in 2 doses divided equally with concomitant therapy.
Use in renal impairment: Kinetic data indicate that quinapril clearance depends on the level of renal function. The recommended initial dose of the drug is 5 mg in patients with a creatinine clearance of 30 ml/min and 2.5 mg in patients with a creatinine clearance of less than 30 ml/min. If the initial dose is well tolerated, the drug can be administered the next day on a regimen of 2 times a day. In the absence of excessive hypotension or significant impairment of renal function, the dose may be increased at weekly intervals based on the clinical and hemodynamic response.
Use in the elderly: Age of the patient does not seem to affect the efficacy or safety profile of the medication. Therefore, the recommended initial dose of Acupril for elderly patients is 10 mg once a day after adjustment to the optimal response.
Use in children: The safety and efficacy of this drug in pediatric patients have not been established.
Contraindications
Acupril is contraindicated for use in patients with hypersensitivity to any component of this product and in patients with a history of angioedema related to previous treatments with angiotensin-converting enzyme inhibitors. The drug is also contraindicated for use in pregnant women, possibly pregnant women or in women at high risk of pregnancy who do not properly use the conceptual measures. The drug can be administered to women of reproductive age, only when the patient is unlikely to conceive and is informed of the potential risk to the fetus.
Side effects
In some cases, Acupril can cause the following adverse effects:
hyperkalemia;
insomnia;
dizziness,
headache,
paraesthesia;
hypotension;
dyspnea,
cough;
vomiting,
diarrhea, dyspepsia, abdominal pain, nausea;
back pain, myalgia;
fatigue,
fatigue, chest pain;
high blood creatine and urea;
pharyngitis,
rhinitis.
Overdose
The average lethal dose of quinapril in mice and rats ranges from 1,440 to 4,280 mg/kg. No specific information about overdosing in humans is available. The most likely clinical manifestation would be severe hypotension, which should normally be treated with intravenous administration of volume expanders. The treatment is symptomatic. Hemodialysis and peritoneal dialysis have little effect on the elimination of quinapril.
Interaction
Avoid taking Acupril with any of the following drugs: lithium, diuretics, insulin, oral hypoglycemic agents, aliskiren, potassium salts, potassium-sparing diuretics, IECAS, angiotensin II receptor antagonists, NSAIDs, heparins, cyclosporine, tacrolimus, trimethoprim, temsirolimus, linagliptin, saxagliptin, sitagliptin, vildagliptin, nitroglycerin, other nitrates or other vasodilators, tricyclic and antipsychotic antidepressants, certain anesthetics such as capsaicin.