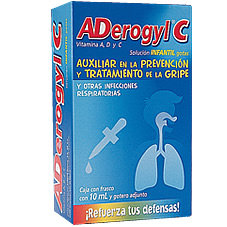 Find Analog
Aderogyl C (Acetomenaphthone, Vitamin A, Vitamin D2)
Active Ingredient: Acetomenaphthone, Vitamin A (Vitamin A Palmitate), Vitamin D2 (Ergocalciferol)
Dosage:  10 ml
Route of Administration: Intranasal
Dosage Form:  Solution
Quantity per package: 5 ampoules
Availability: Out of stock
Aderogyl C is a drug prescribed for the treatment and prevention of common cold or flu. The route of administration is intranasal. The released form is a solution. Currently, this drug is unavailable. You may find another treatment option here.
Indications
Thanks to its protective and regenerative action of the respiratory mucosa, Aderogyl C is a drug to prevent and treat the common cold and flu. It is also indicated in the treatment of vitamin A, D and C deficiencies. It prevents childhood rickets (helps fix calcium in the bones).
Dosage and administration
Route of administration: Oral.
Dose and how to use:
infants (up to 1 year of age): 5 drops daily before breakfast.
children (up to 12 years of age): 10 drops daily before breakfast.
Mode of application:
turn the safety cover, unpack it and insert the cover with the dropper instead.
measure the recommended dose and mix with a little water or the liquid of your choice.
once the bottle is opened, the product is kept in good condition for 30 days.
Do not exceed the recommended dose.
Contraindications
Allergies to vitamins A, D and C;
High levels of calcium in the blood;
Decreased functioning of the liver and/or kidney.
Side effects
Occasionally, this solution can cause nausea, vomiting, headache, lack of appetite, skin rash. The acute and severe allergy may occur in people allergic to vitamins A and D. In some cases vitamin C favors urinary stones.
Overdose
Severe headache, bone pain, impaired sense of balance, nausea, vomiting, irritability, difficulty falling asleep are the main symptoms of overdose. In these cases, you should withdraw Aderogyl C and see your doctor immediately. If symptoms are persistent, consult your doctor.
Interaction
Consult your doctor before taking this drug.