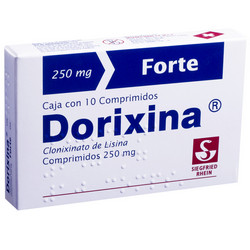 Find Analog
Dorixina Forte (Clonixin)
Active Ingredient: Clonixin
Dosage: 250 mg
Route of Administration: Oral
Dosage Form: Tablets
Quantity per package: 10
Availability: Out of stock
Dorixina Forte is a non-steroidal anti-inflammatory drug with analgesic, antipyretic, and platelet-inhibitory properties. It is used to relieve pain and spasm. Common indications include esophagus painful spastic syndrome, pyloric, intestinal or colon, irritable colon, renal colic, ureteral and bladder spasm, cystitis and cistopielitis, kidney or ureteral stones, functional dysmenorrhoea, premenstrual tension, spasm of the tubes, adnexal processes painful and spastic pains in the puerperium.
Dorixina Forte is no longer in stock but you can find a worthy analog of this product here.
Indications
Dorixina Forte is indicated as an analgesic in patients with acute or chronic pain.
Surgery: Pain in gynecological, orthopedic, urological and general surgery interventions;
Traumatology and orthopedics: Pain due to trauma in general, dislocations, sprains, fractures, myalgias, low back pain, myositis, arthritis, polyarthritis, neuritis;
Gynecology and urology: Dysmenorrhea, mastalgia, adnexitis, postpartum pain, urethritis, cystitis, prostatitis, urolithiasis;
Dentistry: Stomatitis, odontalgias, periodontitis;
Proctology: Hemorrhoid pain, fissures, fistulas and in proctological surgery;
General medicine: Rheumatic pain, gout, soft tissue conditions, headache, otalgia, sinusitis, herpes zoster, neuritis.
Dosage and administration
The drug is taken orally. Adults and children over 10 years: take 1 tablet every 6-8 hours. Take whole tablets without chewing and with plenty of liquid. The low cumulative power of this product allows dosage flexibility, you can increase these doses depending on the intensity of pain and at the doctor's discretion.
Contraindications
Pregnancy;
Hypersensitivity to the drug;
Active peptic ulcer;
Gastrointestinal bleeding.
Side effects
In some cases, patients experience nausea, dizziness and drowsiness. These effects are mild and transient.
Overdose
Cases of overdose have not been reported.
Interaction
Since Dorixina Forte does not alter coagulation, there is no interaction with anticoagulant medications and no dose adjustments are required.