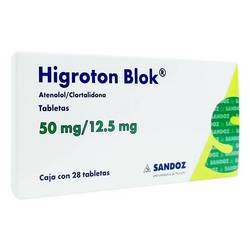 Buy Analog
Higroton Blok (Atenolol, Chlortalidone)
Active Ingredient: Atenolol, Chlortalidone
Dosage: 50 mg/12.5 mg
Route of Administration: Oral
Dosage Form: Tablets
Quantity per package: 28 tablets per pack
Higroton Blok combines the antihypertensive activity of two agents, β-blocker (atenolol) and a diuretic (chlorthalidone). Atenolol acts preferentially on the β-1 adrenergic receptors of the heart. Chlorthalidone increases the excretion of Na and Cl. The drug is used to treat hypertension. It is indicated in patients whose blood pressure could not be sufficiently reduced with atenolol or chlorthalidone alone. Currently, the drug with these two components is absent. We may offer you one of the analogs available here.
Indications
The drug s prescribed to treat hypertension. Higroton Blok is indicated in patients whose blood pressure could not be reduced sufficiently with Atenolol or Chlorthalidone separately.
Dosage and administration
Route of administration: Oral.
The treatment of hypertension should be started with a single active substance at low doses (gradually).
Higroton Blok 50 / 12.5 mg: The common dose is 1 coated tablet once a day (equivalent to 50 Atenolol/12.5 mg Chlorthalidone) in patients with the combined treatment.
Higroton Blok 100/25 mg: The common dose is 1 coated tablet once a day (equivalent to 100 of Atenolol/25 mg of Chlorthalidone) with the combined treatment.
Duration of administration: The drug should be taken as a whole along with plenty of water. The medication is taken before a meal.
The duration of therapy is determined by the attending physician.
The treatment can be withdrawn or terminated only by doctor's indications.
In patients with coronary artery disease, therapy with Higroton Blok should not be discontinued abruptly, but gradually.
Contraindications
Known hypersensitivity to atenolol and chlorthalidone or any other component of the drug;
Second or third-degree heart block;
Sick sinus syndrome;
Bradycardia;
Metabolic acidosis;
Pregnancy and breastfeeding;
Uncontrolled heart failure;
Hypotension;
Severe peripheral arterial disorders;
Cardiogenic shock;
Severe renal failure;
Untreated pheochromocytoma;
Bronchial hypersensitivity, for example, in asthma;
Severe liver dysfunction;
Clinically relevant electrolyte disorders (hypokalemia, hyponatremia, hypercalcemia);
Gout.
Side effects
Blood and lymphatic system disorders: uncommon: purpura, thrombocytopenia, leukopenia (related to chlorthalidone).
Psychiatric disorders: uncommon: sleep disturbances. Uncommon: mood swings, nightmares, confusion, psychosis, and hallucinations.
Nervous system disorders: uncommon: dizziness, headache, paraesthesia.
Eye disorders: uncommon: dry eyes, visual disorders.
Cardiac disorders: common: bradycardia. Uncommon: deterioration of heart failure, precipitation of heart block.
Vascular Disorders: common: cold limbs. Uncommon: orthostatic hypotension that can be associated with syncope.
Respiratory, thoracic and mediastinal disorders: uncommon: bronchospasm may occur in patients with bronchial asthma or a history of asthmatic ailments.
Gastrointestinal Disorders: common: gastrointestinal disorders (including chlorthalidone related nausea). Uncommon: dry mouth. Unknown: constipation.
Hepatobiliary disorders: uncommon: liver toxicity including intrahepatic cholestasis, pancreatitis (related to chlorthalidone).
Skin and subcutaneous tissue disorders: uncommon: alopecia, psoriasiform skin reaction, exacerbation of psoriasis, skin rashes.
Musculoskeletal and connective tissue disorders: unknown: lupus-like syndrome.
Reproductive system and breast disorders: uncommon: impotence.
General disorders and administration site conditions: common: fatigue.
Laboratory research: common (related to chlorthalidone): hyperuricemia, hyponatremia, hypokalemia, impaired glucose tolerance. Uncommon: increase in serum transaminase levels. Very rare: an increase in antinuclear antibodies (ANA) has been observed, however, the clinical elevation of this phenomenon has not been explored.
Overdose
Symptoms of overdose may include bradycardia, hypotension, acute heart failure and bronchospasm.
General treatment includes: constant supervision, treatment in an intensive care unit, gastric lavage procedure, activated carbon and a laxative to prevent the absorption of an active substance, plasma or plasma substitutes for the treatment of hypotension and shock. The use of hemodialysis or hemoperfusion may be considered.
Interaction
The combined use of beta-blockers and calcium channel blockers with negative inotropic effects, for example, verapamil, diltiazem, can result in an exacerbation of these effects particularly in patients with damaged ventricular function and/or atypical properties.
Beta-blockers and calcium channel blockers should not be administered intravenously within 48 hours of the suspension of any of them.
Class I antiarrhythmic medications such as disopyramide and amiodarone can potentiate the effect on atrial conduction time and negatively induce the inotropic effect.
Digitalis glycosides, in association with beta-blockers, can increase atrioventricular conduction time.
Beta-blockers can exacerbate rebound hypertension that may occur after clonidine suspension. If the two active substances are coadministered, the beta-blocker should be suspended several days before stopping the clonidine. If clonidine is replaced by beta-blockers, the introduction of beta-blockers should be delayed for several days after the administration of clonidine has been suspended.
The concomitant use of sympathomimetic agents, for example, adrenaline, may counteract the effect of beta-blockers.
Concomitant use of active substances that inhibit prostaglandin synthetase (for example, ibuprofen, indomethacin) may decrease the hypotensive effects of beta-blockers.
Due to its thiazide component (Chlorthalidone): The chlorthalidone component may reduce the renal clearance of lithium which results in an increase in its serum concentration. Therefore, lithium dose adjustments may be necessary.
Due to the combination of drugs: Concomitant dihydropyridine therapy, for example, nifedipine, may increase the risk of hypotension and heart failure; It can occur in patients with latent heart failure.