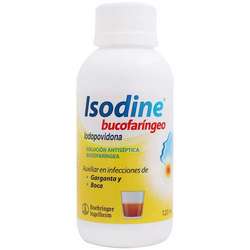 Find Analog
Isodine Bucofaríngeo (Povidone-iodine)
Active Ingredient: Povidone-iodine
Dosage: 125 mg, 10 mg
Route of Administration: Local
Dosage Form: Solution
Quantity per package: 1 unit
Availability: Out of stock
Isodine Bucofaríngeo (also known as povidone-iodine) is an antiseptic used for skin disinfection before and after surgery. It is used both to disinfect the patient's skin and the healthcare provider's hands. The antiseptic may also be used for minor wounds.
Isodine Bucofaríngeo is currently unavailable but we recommend that you choose a similar antiseptic product on this page.
Indications
This medication is used as an auxiliary treatment in the disinfection of mouth and throat caused by gram-positive and gram-negative bacteria, some viruses and fungi. It also provides an immediate antiseptic action in canker sores, oral hygiene and halitosis by alcohol or tobacco.
Dosage and administration
For rinses or gargles: dissolve 1 or 2 teaspoons in ½ or ¼ cup with hot or cold water. Oral hygiene: ½ teaspoon in half a glass with hot or cold water. Injuries or ulcerations: apply with a swab directly.
Contraindications
Hypersensitivity to the drug.
Side effects
In rare cases, Isodine Bucofaríngeo may cause local skin reactions.
Overdose
No cases reported.
Interaction
No cases described.