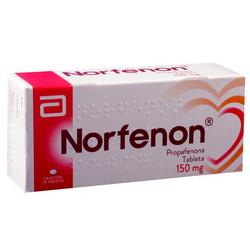 Find Analog
Active Ingredient: Propafenone
Dosage: 150, 300 mg
Route of Administration: Oral
Dosage Form: Tablets
Quantity per package: 30 tablets per pack
Availability: Out of stock
Norfenon is an anti-arrhythmic drug that used to treat certain types of serious irregular heartbeat (paroxysmal supraventricular tachycardia, atrial fibrillation). The drug can restore normal heart rhythm and maintain heartbeat regular and steady.
Norfenon is unavailable for purchase at the moment but you can find other effective cardiovascular products on this page.
Indications
Symptomatic supraventricular tachyarrhythmias requiring treatment, such as AV tachycardia, supraventricular tachycardia in patients with Wolff-Parkinson-White syndrome (WPW) or paroxysmal atrial fibrillation;
Severe symptomatic ventricular tachyarrhythmias (if the doctor considers that these can be life-threatening).
Dosage and administration
Due to its bitter taste and the local anesthetic effect of the active substance, the tablet should be swallowed (not chewed) with liquid, after meals. The dose should be adjusted to the individual requirements of the patient.
Adults: A dose of 450 to 600 mg of propafenone is recommended, divided into two or three doses per day, during the titration period and for maintenance therapy, in patients weighing about 70 kilograms. Occasionally it may be necessary to raise the daily dose to 900 mg (300 mg every 8 hours). These data are valid for patients with 70 kg of approximate body weight; in cases of less weight, the daily dose should be correspondingly reduced. No dose increments should be attempted until the patient has received treatment for three or four days. The individual maintenance dose should be determined under cardiological surveillance, including electrocardiogram monitoring and repeated control of blood pressure (titration phase).
Children: In children, an average daily dose of 10 to 20 mg of propafenone per kilogram of body weight is distributed in three to four doses. No attempt should be made to increase the dose until the patient has received treatment for three to four days. The individual maintenance dose should be determined under cardiological surveillance, including electrocardiogram monitoring and repeated control of blood pressure (titration phase).
Elderly: In elderly patients or those with significant impairment of left ventricular function or structural myocardial disease, as with other antiarrhythmics in the initial phase of adjustment, the drug should be administered in gradually increasing doses and with particular caution in small increments. The same applies to maintenance treatment. Any dose increase should not be carried out during the first five to eight days of treatment.
Contraindications
Hypersensitivity to the active substance, propafenone hydrochloride or any of the other ingredients;
Significant structural heart disease, such as uncontrolled congestive heart failure;
Severe symptomatic bradycardia;
Sinoatrial node dysfunction;
Atrial conduction defects;
Second degree AV block or greater;
Severe hypotension;
Manifold electrolyte disorder (for example, potassium metabolism disorders);
Severe obstructive pulmonary disease.
Side effects
In clinical studies and post-marketing surveillance, the following adverse events have been reported with this and other propafenone formulations. In these adverse events, a cause-effect relationship cannot be established:
Blood and lymphatic system disorders: Leukocytopenia and/or granulocytopenia or thrombocytopenia; agranulocytosis Immune system disorders:
Allergic reactions. Metabolism and nutrition disorders, anorexia;
Psychiatric disorders: Anxiety, confusion;
Nervous system disorders: Syncope, ataxia, paraesthesia, headache, dizziness, vertigo;
Eye disorders: Blurred vision;
Cardiac disorders: A marked reduction in heart rate (bradycardia) or conduction disorders (ie, atrioventricular or intraventricular block). proarrhythmic effects;
Vascular disorders: Hypotension, including postural hypotension and orthostatic hypotension;
Gastrointestinal disorders: Nausea, vomiting, constipation, dry mouth, bitter taste, abdominal pain;
Hepatobiliary disorders: Hepatic abnormalities, including hepatocellular damage, cholestasis, jaundice and hepatitis;
Skin and subcutaneous tissue disorders: Redness of the skin, rash, pruritus, hives;
Disorders of skeletal muscles and connective tissue: Lupus syndrome;
Reproductive system and breast disorders: Impotence;
General disorders and administration site conditions: Fatigue, chest pain.
Overdose
The effect of Norfenon overdose on the myocardium is manifested as disorders of impulse generation and conduction, such as prolongation of PQ, widening of the QRS, suppression of sinus node automatism, AV block, ventricular tachycardia, ventricular flutter and ventricular fibrillation. Hypotension, seizures, drowsiness and death may occur.
Treatment: Due to the high protein binding (> 95%) and the large volume of distribution, hemodialysis is not effective and attempts at elimination via hemoperfusion are of limited efficacy.
Interaction
A potentiation of side effects may occur when Norfenon is taken together with local anesthetics (e.g. pacemaker implantation, surgery or dental work) and other medications that have an inhibitory effect on heart rate and / or myocardial contractility (e.g., beta-blockers, tricyclic antidepressants). Co-administration of propafenone with drugs metabolized by CYP2D6 (such as venlafaxine) may cause an increase in the levels of these drugs. An increase in plasma levels of propranolol, metoprolol, desipramine, cyclosporine, theophylline and digoxin has been reported during treatment with propafenone. Medications that inhibit CYP2D6, CYP1A2, and CYP3A4, for example, ketoconazole, cimetidine, quinidine, erythromycin, and grapefruit juice may cause an increase in plasma propafenone levels. When propafenone is given with inhibitors of these enzymes, the patient should be closely monitored and the dose adjusted as necessary. Due to the potential possibility of increasing plasma concentrations, co-administration of 800-1200 mg/day of ritonavir and propafenone is contraindicated. The combined therapy of amiodarone and propafenone can affect conduction and repolarization and produce abnormalities that have the potential to be proarrhythmic. Dose adjustments of both compounds may be required based on the therapeutic response. No significant effects on the pharmacokinetics of propafenone or lidocaine have been observed after concomitant use in patients. However, it has been reported that the concomitant use of propafenone and intravenous lidocaine increases the risk of side effects of lidocaine on the central nervous system. Phenobarbital is a known inducer of CYP3A4. Propafenone response should be monitored during the chronic use of phenobarbital. Concomitant use of propafenone and rifampin may reduce the antiarrhythmic efficacy of propafenone as a result of reduced plasma propafenone levels. Close monitoring of the status of coagulation function is recommended in patients who are receiving oral anticoagulants concomitantly (e.g., phenprocoumon, warfarin) since propafenone may increase the effectiveness of these medications, resulting in an increase in prothrombin time. When propafenone and paroxetine are used concomitantly, plasma propafenone levels may increase. Smaller doses of propafenone may be sufficient to achieve the desired therapeutic response.