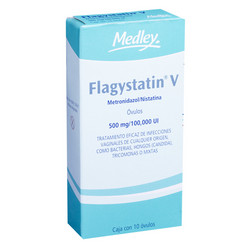 Find Analog
Flagystatin V (Metronidazole, Nystatin)
Active Ingredient: Metronidazole, Nystatin
Dosage: 500 mg
Route of Administration: Vaginal
Dosage Form: Suppositories
Quantity per package: 10 suppositories
Availability: Out of stock
Flagystatin V is used to treat vaginal infections caused by certain bacteria and fungi. It contains 2 ingredients: metronidazole and nystatin. The first ingredient kills certain bacteria. The second ingredient kills certain fungi. Each suppository contains metronidazole 500 mg and nystatin 100,000 units. Flagystatin V is currently out of stock. Use our women's health category and find another treatment option for a diagnosis you have.
Indications
Vaginal infections caused by Trichomonas vaginalis, Candida albicans or mixed vaginitis.
Dosage and administration
Apply an ovule of Flagystatin V daily at night for 10 consecutive days.
Contraindications
Hypersensitivity to any of the drug components;
Combined treatment with oral Flagyl;
Active neurological disorders;
A medical history of blood dyscrasia;
Hypothyroidism or hypoadrenalism;
Alcohol abuse.
Side effects
No date reported.
Overdose
Cases of accidental vaginal suppositories of Flagystatin V increase have not yet been reported. However, if this happens, symptoms such as nausea, vomiting, diarrhea and mild disorientation may be characteristic. If an overdose is diagnosed, gastric lavage and subsequent symptomatic treatment should be carried out.
Interaction
Not combinable with metronidazole.