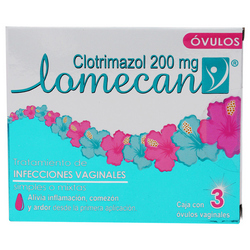 Buy Analog
Active Ingredient: Clotrimazole
Dosage: 20 g
Route of Administration: Local
Dosage Form: Cream
Quantity per package: 1
Lomecan V is an antifungal medication used to fight infections caused by fungi or yeasts. Common indications include vaginal candidiasis (an infection caused by yeasts of the genus Candida), vaginal infections caused by other microorganisms such as Trichomonas vaginalis and others. Common symptoms of the condition are vaginal inflammation with discomfort when urinating or having sex. This cream under this trade name is unavailable. Buy another option – Lotrisone with the same components and indications.
Indications
Lomecan V is an azole antifungal with effective properties against Candida albicans, Candida tropicalis, Candida glabrata, C. neoformans, B. dermatitidis, H. capsulatum, C. immitis, Paracoccidioides braziliensis. The drug has antiprotozoal effects against Leishmania major. It is highly effective in the treatment of vulvovaginal candidiasis.
Dosage and administration
Vulvovaginitis: introduce 5 g of 2% cream once a day for 3 days, vaginally through an applicator.
Mode of application: It is recommended to perform the application at night before bedtime. The patient lying on her back with legs apart and semi-flexed introduces the applicator that contains 5 g of Clotrimazole 2% cream and stays 15 minutes in this position.
Contraindications
The drug is contraindicated in case of hypersensitivity to the antifungals of the imidazole group or to any other component of the formula.
Side effects
Lomecan V is well-tolerance. On average 1.6% of women who use it show a mild or itching burning sensation in the vagina and, infrequently, colic pain in the lower half of the belly, a moderate increase in urinary frequency and rash cutaneous. Sometimes, the sexual partner may feel mild irritation of the penis or urethra after sexual intercourse.
Overdose
No date reported.
Interaction
No date reported.