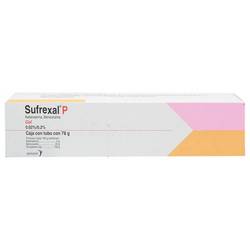 Find Analog
Sufrexal P (Ketanserin, Benzocaine)
Active Ingredient: Ketanserin, Benzocaine
Dosage: 78 g
Route of Administration: Local
Dosage Form: Gel
Quantity per package: 1 unit
Availability: Out of stock
Sufrexal P is an analgesic that contains ketanserin and benzocaine. It is used for temporary relief of inflammation and pain in the oral cavity: mouth, tongue, and cheeks. The gel is applied to the mouth or gums in methemoglobinemia. Unfortunately, Sufrexal P is out of stock currently. We offer you to search by category to find another option for this diagnosis here.
Indications
Sufrexal P gel is prescribed to relieve pain and inflammation of the oral cavity.
Dosage and administration
The dose of Sufrexal P will differ for individual patients. Follow the physician's recommendations or instructions for use. The following information includes only the average doses of Sufrexal P.
For topical dosage forms in the diagnosis like pain in the mouth and oral cavity:
adults, teenagers, and children 2 years old and over, apply three or four times a day to the affected area.
toddlers: usage and dose must be specified by your healthcare physician.
Contraindications
Pregnancy;
Lactation;
Hypersensitivity to the drug components.
Side effects
Unknown
Interactions
Unknown