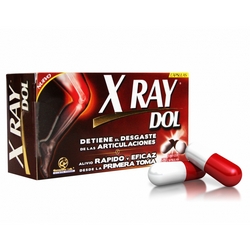 Find Analog
X Ray Dol (Glucosamine, Chondroitin Sulfate, Methyl Sulfonyl Methane)
Active Ingredient: Glucosamine, Chondroitin Sulfate, Methyl Sulfonyl Methane
Dosage: 1,500 mg/800 mg/750 mg
Route of Administration: Oral
Dosage Form: Capsules
Quantity per package: 20
Availability: Out of stock
X Ray Dol is a dietary supplement that helps support cartilage and promotes joint strength, flexibility and mobility. It takes care of your joint health and relieves associated pain. The product contains Vitamin D 2000 IU. Take two tablets per day to help promote joint strength, flexibility and mobility.
X Ray Dol is unavailable for purchase but there are plenty of other painkillers on this page.
Indications
It is indicated for the treatment, control and prevention of signs and symptoms related to osteoarthritis. It effectively and quickly relieves other symptoms of osteoarthritis such as: inflammation, bone snapping and stiffness, improving mobility and joint function. It is indicated in the prevention of osteoarthritis in a population with risk factors such as those over 45 years of age, obese people and people who play sports with high impact on the joints.
Dosage and administration
Adults take two (2) tablets daily with water preferably with a meal or as directed by a doctor.
Contraindications
Hypersensitivity to the components or to any NSAID;
Patients with anemia or liver injury.
Side effects
In rare cases, X Ray Dol may cause mild digestive intolerance.
Overdose
An overdose can cause fatal liver damage and renal tubular necrosis, hypoglycemic coma, thrombocytopenia. All of this can be reversed by administering N-acetylcysteine, a specific antidote.
Interaction
The drug may increase insulin resistance. It should not be taken with alcohol, dewormers, ketoconazole, anticoagulants derived from coumarin and warfarin, amphetamines, corticosteroids, sulfonylureas, allopurinol, methotrexate, spironolactone and furosemide.