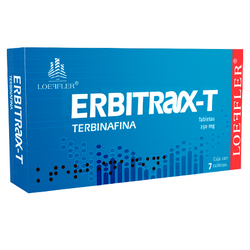 Buy Now
Active Ingredient: Terbinafine
Dosage: 250 mg
Route of Administration: Oral
Dosage Form: Tablets
Quantity per package: 7
Erbitrax-T is a medicine used to treat fungal infections of the skin, scalp and nails: tinea corporis, cruris, pedis, capitis, onychomycosis. It specifically interferes with the first step of fungal sterol biosynthesis. This leads to a deficiency in ergosterol and an intracellular accumulation of squalene, which results in cell death of the fungus. Terbinafine acts by inhibition of squalene epoxidase in the fungal cell membrane.
Erbitrax-T is currently out of stock but you can order its complete analog here.
Indications
Erbitrax-T is used to treat:
Onychomycosis (fungal infection of the nail) caused by dermatophytes;
Fungal skin infections;
Tinea corporis, Tinea cruris, Tinea capitis and yeast infections in the skin caused by the genus Candida (for example, Candida albicans).
Dosage and administration
The drug is taken orally. The duration of treatment varies according to the indication and the severity of the infection.
Children under 2 years of age: there is no relative information available in children under 2 years of age (generally weighing < 12 kg).
Children weighing 40 kg 250 mg (one 250 mg tablet) once a day.
Adults: 250 mg once daily.
Skin infections: recommended duration of treatment: Tinea pedis (interdigital type, plantar / moccasin type): 2 to 6 weeks. Tinea corporis, T. cruris: 2 to 4 weeks. Cutaneous candidiasis: 2 to 4 weeks. The total resolution of the signs and symptoms of the infection may not occur until after several weeks of mycological cure. Infections in the hair and scalp: Recommended duration of treatment: Tinea capitis: 4 weeks. Tinea capitis usually occurs in children. Onychomycosis: For most patients, the duration of a successful treatment is 6 to 12 weeks. Onychomycosis in the fingernails: in most cases, a six-week treatment is sufficient for infections in the fingernails. Onychomycosis in the toenails: in most cases, a twelve-week treatment is sufficient for infections in the toenails. Some patients with slow nail growth may require longer treatment. The optimal clinical effect is observed a few months after mycological cure and cessation of treatment. This is related to the period required for the growth of a healthy nail. Use in the elderly: there is no evidence to suggest that elderly patients require different doses or experience different side effects than those seen in younger patients. When tablets are prescribed to patients in this age group, the possibility of a pre-existing disorder in liver or kidney functions should be considered.
Contraindications
Do not take Erbitrax-T if you gave hypersensitivity to terbinafine and any of the excipients.
Side effects
In general, terbinafine tablets are well tolerated. The side effects are mild or moderate. The most common adverse reactions are gastrointestinal symptoms (feeling full, loss of appetite, dyspepsia, nausea, mild abdominal pain, diarrhea), mild forms of skin reactions (rash, hives), musculoskeletal reactions (arthralgia, myalgia). Uncommon side effects: taste disorders, including loss of taste. Isolated cases of prolonged taste disorders have been reported. There have been very few severe cases of decreased food intake and the consequent significant weight loss. Rare side effects: Hepatobiliary disorders (mainly cholestatic in nature) associated with terbinafine treatment have been reported, including very rare cases of serious liver failure. Very rare: serious skin reactions (for example, Stevens-Johnson syndrome, toxic epidermal necrolysis) and anaphylactoid reactions (including angioedema) have occurred. If progressive rash occurs on the skin, treatment with Erbitrax-T should be discontinued. Very rare: hematological disorders such as neutropenia, agranulocytosis or thrombocytopenia have occurred. Hair loss has been reported, although a causal relationship with Erbitrax-T has not been determined.
Overdose
There have been some cases of overdose (up to 5 g) causing headaches, nausea, epigastric pain and dizziness. The recommended treatment in case of overdose: drug withdrawal, administration of activated carbon, symptomatic supportive therapy.
Interaction
According to the results of studies carried out in vitro and in healthy volunteers, terbinafine shows an insignificant potential to inhibit or enhance the clearance of drugs metabolized by cytochrome P-450 (for example, cyclosporine, terfenadine, triazolam, tolbutamide or oral contraceptives). In vitro studies have shown that terbinafine inhibits CYP2D6-mediated metabolism. These in vitro findings could be of clinical relevance for the compounds predominantly metabolized by this enzyme, such as tricyclic antidepressants, β-blockers, selective serotonin recapture inhibitors (SSRIs) and monoamine oxidase inhibitors (MAOIs) type B. There have been some cases of menstrual irregularities in patients taking Erbitrax-T with oral contraceptives. On the other hand, plasma clearance of terbinafine can be accelerated by drugs that stimulate metabolism (such as rifampin) and can be inhibited by those that inhibit the cytochrome P-450 pathway (such as cimetidine). When these agents are co-administred, a corresponding adjustment of the terbinafine dose may be required.